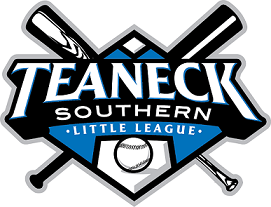 Want to play? Get in touch!
If you would like to join our league next season, sign up or contact us to find out more information.
Before registering please review new league age table.
Click here to download our registration form
Email
Phone
201-833-2332
Connect with us:
Recommended Links:
FREE MLB Pitch Hit & Run Competition
and JUNIORS HR Derby Competition
SATURDAY April 28 @ 3:00pm
Location: Phil Apreda Memorial Field, 300 Lindbergh Boulevard, Teaneck NJ 07666
FREE event for boys and girls age 7-14 to demonstrate excellence in core baseball and softball skills. The individual Pitching, Hitting and Running Champions, along with the All-Around Champion in each age group may advance to the Sectional Competition. All participants must bring a copy of their birth certificate and have their parent or guardian fill out a registration/waiver form prior to the start of the competition. Use the LINK below to register online...
https://www.pitchhitrun.com/competition_management/competitions/view/13839 
We will also host a FREE Major League Baseball Jr. Home Run Derby for boys and girls to determine the best home run hitters in the country. HR Derby starts at 5:00pm, to participate please contact Teaneck Southern at teanecksouthern@gmail.com
Teaneck 1-Mile Color Fun-Run
Sunday May 6 @ 10:00am
There is also a 5k Run/Walk event @ 9:00am
Sign up now at: https://runsignup.com/teaneck5k

IMPORTANT New Youth Baseball Bat Rules
Little League Baseball implemented new USA Baseball Bat Standards for mandated use.
All Little League-approved baseball bats must be branded with the USABat label in order to be used in Little League Baseball.
This rule change does not affect Softball.
For more information, see USA Baseball Bat Standard Frequently Asked Questions