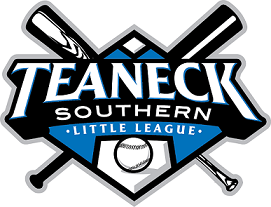 Want to play? Get in touch!
If you would like to join our league next season, sign up or contact us to find out more information.
Before registering please review new league age table.
Click here to download our registration form
Email
Phone
201-833-2332
Connect with us:
Recommended Links:
Be a Volunteer...

Each year, a new group of parents joins the Teaneck Southern family, as their children begin their baseball or softball journey, making new friends, learning new skills and having fun along the way.
For more than 65 years, Teaneck Southern Little League has relied on volunteers to make it all work, everything from the concession stands, field maintenance, fundraising, event planning, communications, to coaching - no prior experience is necessary, just a passion and commitment to helping our young players grow and forge lifelong memories.
If your son or daughter began playing this year, or is about to start next season, we encourage you to attend the league's Board of Directors meetings. At these meetings, you may ask questions and offer your fresh perspectives and thoughts, plus you'll learn what volunteer Board positions are needed. Board members typically transition out as their children graduate from the Little League program, so it's helpful to have dedicated volunteers ready to step in to make the change seamless.
The success of a league depends on the number of devoted volunteers it has. Find the role that interests you the most and raise your hand. While you'll find your volunteer work extremely worthwhile and gratifying, it is the players who will benefit the most.
To volunteer, please contact the league at teanecksouthern@gmail.com